The Origins of Steve Schmier's Jewelry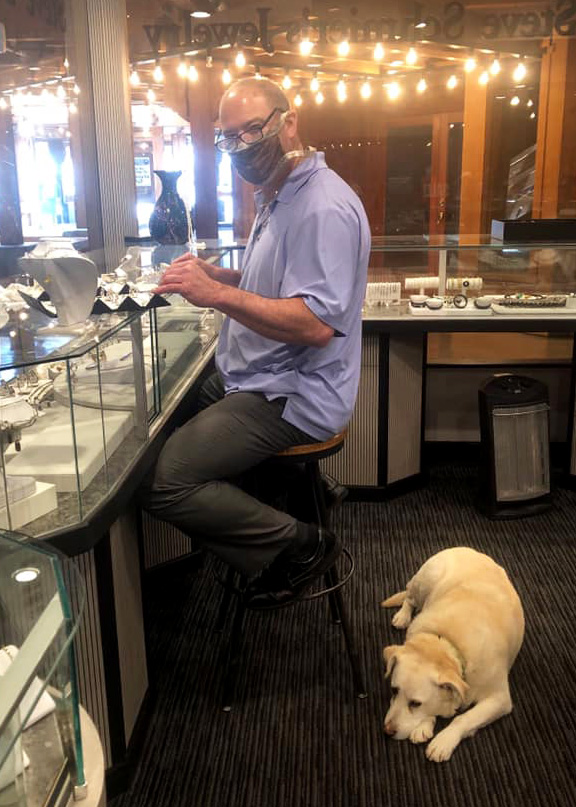 New Yorker Steve Schmier founded Steve Schmier's Jewelry at The Boatworks Mall in Tahoe City in 1977, working there for 11 years and earning a stellar reputation for high-quality jewelry. When Michael Grant, a jeweler from California, bought the store from him in 1988, he decided to keep Schmier's name as a reflection of the quality.
Grant fell into the jewelry trade at age 15 when he began working in the jewelry repair shop of a family friend in San Jose, California. At age 19 he left for Sacramento to open his own jewelry repair shop. He earned his chops on the job, working with professional jewelers and building a large team of employees. He credits many senior jewelers for teaching him how to do things right and how to run a business while still learning. In 1988 Grant purchased Steve Schmier's Jewelry in Tahoe City and has since developed a strong following for jewelry in the Lake Tahoe area. He not only repairs, rebuilds and reconstructs jewelry, but he also creates pieces to sell alongside the works of other artists he represents. Customer favorites are the fine quality Lake Tahoe necklaces and pendants he creates with opals and diamonds. Creating custom jewelry is one of Grant's favorite parts of his job as he enjoys working directly with customers to produce exactly what they want.
Customers love Grant for his direct personality and always have a good time in his store. Everyone who meets him is immediately aware that he loves his job. He is lucky to consider his work his hobby, and it shows in his dedication to his craft and long-lasting relationships he builds with his customers.