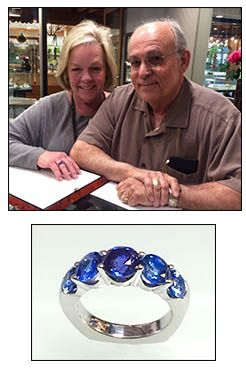 Meet the Mello's from Modesto/Reno

Judy wanted a tapered (5) stone multi-colored sapphire ring.  She chose a rare purple for the center, Ceylon blue for the middle color and a lighter blue for her outside color. She chose "U" shaped shared prong crowns rather than a standard to make a modern, heavier contemporary dramatic ring.
Here is what Rick & Judy have to say:
"It's always fun because you're a part of the process.  It's Beautiful! I love it and I'm thrilled, Thank you!"
- Judy Mello
---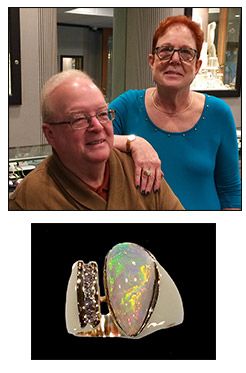 Meet Jim & Sheila Beane

"We've been coming from Houston Texas to Tahoe City for 15-20 years now and the trip wouldn't be the same without stopping here. We pick out original creations by Michael, not just any ole' thing. I love what I get and he's done a lot of great things. You've done another pretty job as always."
- Sheila Beane
---
Meet Margaret & George Wilson 

"We simply loved working with Michael. The final design and craftsmanship is gorgeous. I'm in love with the ring!"
-The Wilsons 
---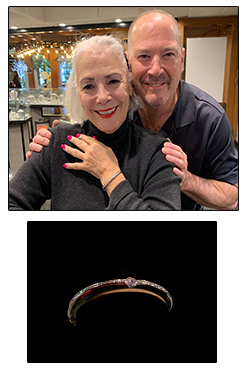 Meet Dianne Travalini

"Been coming to the store over 40 years when they actually let me put jewelry on layaway. Bought rings, bracelets, necklaces and now passed on some of the jewelry to my granddaughter. Michael just made this new bracelet for me that I will wear daily. Thank you Michael, your a fine craftsman! You've satisfied my jewelry needs all these years!"
-Dianna Travalini